New Chef Coat For Kitchen Artistry
Cooking is an extension of my art as "Artist Anne."
After decades of making do with various (highly imperfect) solutions to keeping myself and my clothes protected in the kitchen, I recently upgraded my Chef Anne culinary activities with a pair of new executive chef coats. It turned out to be one of the most emotionally powerful and deeply meaningful experiences of my life.
White Coat Ceremonies – Ancient Traditions, Rites Of Passage
In the health professions, the white coat ceremony is a rite of passage for students in the dental, chiropractic, nursing, medical, veterinary, and other fields.
The white coat symbolizes the shift from preparatory studies to working with patients, and it echoes ancient mystical traditions (and later religious and royal ones) that conferred authority or transferred responsibility or leadership.
My First Chef Coats A Decade Ago
Ten years ago, I bought myself two white chef coats for both practical and personal reasons.
The Practical
Decades of using aprons had demonstrated they were inadequate for my needs, as every type I tried failed to keep splatters off my clothing.
They also didn't protect my arms and shoulders from a hot oven.
And they all wouldn't stay put across my chest, generally slipping sideways so they covered only half of it.
The Personal
After decades of cooking (I started at age five, making dinner for our family of nine with oversight by my mother), and years of teaching myself international cuisines and traditional French skills and techniques, I wanted a garment that true chefs wear.
I plan and cook every meal for our family, generally multiple meals per day, and I see it as an extension of my art.
The First Chef Coats
So we went to a Work 'N Gear store, where I bought two white chef coats (one to wash, one to wear).
Over the past decade, I wore them constantly, and while they wore like iron, in recent years they began to fray, and each has permanent stains from many a fine meal or occasional mishap.
Also, after going vegan five years ago, they are many, many sizes too big.
Researching New Chef Coats
In mid-2020, I started researching replacements.
I spent hours online and on the phone with a woman at a leading manufacturer, Chef Works. She recommended two coat options and shipped them to me to try on before buying.
One was a clear winner, and in July 2020 we returned the "trying on" coats and placed a new order that included personalization.
Artist Anne Logo For Chef Anne Coats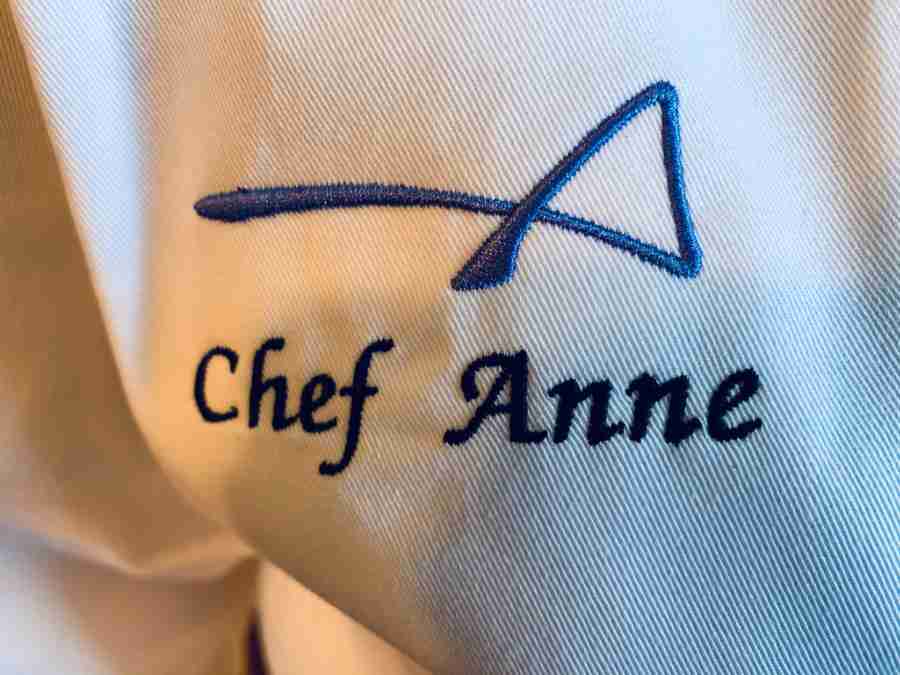 It wasn't enough to have an Executive Chef Coat.
I wanted it to announce my mastery, won over many decades.
I had the company put my cooking persona, "Chef Anne," on the front, along with my Artist Anne blue-purple "A" logo.
Chef Anne White Coat Ceremony
My coat arrived in August, and I ironed her the next morning and hung her up on a special hanger.
At lunchtime, I had my personal Chef Anne White Coat Ceremony, and my husband, Bill, took the pictures you see in this blog post.
A Working Artist, A Working Chef
Afterward, in true chef fashion, I made lunch – wearing my beautiful new coat.
For I am a working artist and a working chef.
The garments I wear while preparing kitchen delights or creating art (and aren't these really the same thing?) are both practical and symbolic of my abilities and my wish to use them in service to others, in a spirit of joy.
On the day of my Chef Anne white coat ceremony, I posted some pictures on Facebook and wrote these words:
This is a word I generally don't use regarding myself, but today I will: I feel proud. I got my start in the kitchen from my parents, who taught and encouraged me and let me try anything. I'm sorry they're not here to see me today in my new coat, but I know they would be proud, too.